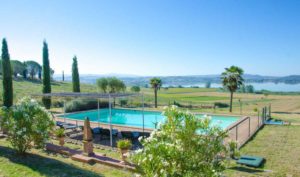 Poggio Antico is a farmhouse Lake of Chiusi that best suits a relaxing holiday in the rolling hills of Siena, both because it is close to its banks, and because it enjoys an enviable panoramic position. It is also the only Lake of Chiusi farmhouse that has its own swimming pool and the solarium area facing the lake itself, within a semi-hilly area that allows its full view.
Why spend your holidays in a farmhouse Lake of Chiusi?
There are many motivations: first of all the presence of the lake itself, which characterizes the place and allows birdwatchers to be able to see the numerous species of birds present within the protected area. The landscape is hilly and rich in vegetation. Between a climb and a descent you can see breathtaking views and breathe the scents that nature produces during the seasons.
Spending a holiday in a farmhouse Lake of Chiusi, moreover, allows you to grasp the advantages of a central position compared to some important towns of the area that lies on the border between Umbria and Tuscany: from here to two steps, in addition to the town of Chiusi, they can easily reach countries of historical and cultural significance such as Città della Pieve, Cortona, Montepulciano, Sarteano and Cetona.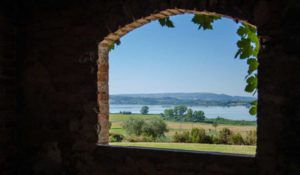 The tranquility and relaxation are guaranteed by the presence of very few houses and the type of life typical of a small Tuscan village.
Thanks to a holiday spent in a farmhouse Lake of Chusi, it is completely immersed in the typical environment of the Tuscan Valdichiana, an enchanting place composed of small villages of historic value set in the rolling hills of this area.
Not to mention that Chiusi is also a small town with a natural shopping center (Chiusi Scalo) full of boutiques and shops, often open on Sundays and evenings on some evenings. In addition, local merchants often organize entertainment events that invite tourists to take nice evening walks.
Poggio Antico is one of the best farmhouse in Siena where you can stay